Modeling and Simulation – is the basis of Alcman solutions for Supply Chain Execution, and product / service to help professionals working in consulting and design of logistics systems. 
3D modeling, recording the dynamic parameters and performance of resources, delivers a realistic rappresentazion of them, with animations by simulating their physical behavior. 
In addition to providing a powerful interface for the operational management, these features are valuable during design and testing. All external devices that generate events can be simulated to allow complete testing of both the logistic solution, both software Alcman in charge of its management.
Once the project is implemented, AlcmanM&S also allows you to check the prospects of improvement of the logistics system.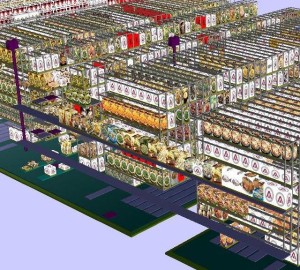 Type of data detected:
Historical data (batch mode)
Data acquired in parallel by the current management systems (tiling mode on-line)
The users will be able to simulate entire days of work, even if accelerated in batch mode.
The result is a design of procedures and a proper evaluation of their performance, as well as a complete testing of the software operations.